Camping, Caravanning, and...Stoicism?
Camping and Caravanning have more in common with both ancient and modern philosophies than you might first think.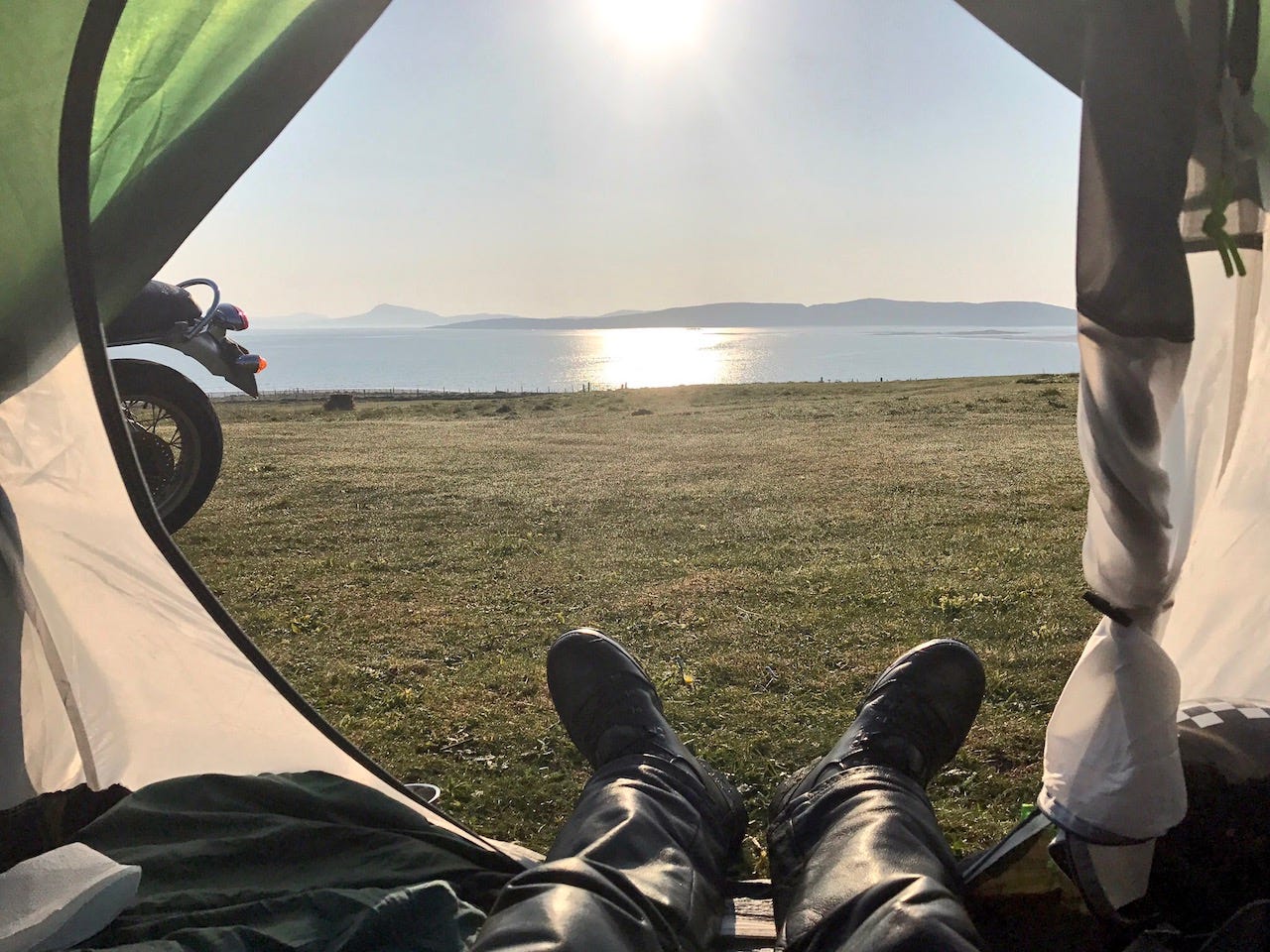 The latest philosophy: Essentialism
Regrets are something we try not to have. But I have a tough time coming to terms with regret over the precious time I wasted in my teens and twenties living a shallow existence. Motivated by money, I did whatever I could to garner the approval and admiration of my peers, family, and wider society. 
I was an impressionable teen during the Thatcherite Yuppy era of the 1980s, so it was easy to get swept along. It took until I was in my early 40s to realise that the mainstream belief of make loads of money and then you'll be happy was a lie. I was working every hour God sent doing three jobs to maintain the designer beach house, a stunning Airstream trailer, a funky pick-up truck, and a fast motorbike.
One winter afternoon, slumped in an exhausted state over my desk, the paradox of my life hit me — hard. I was miserable to be living in such a beautiful house yet never having the time to enjoy being there. My dream of owning an Airstream had come true, yet in order to afford it I could never take it away for pleasure, only work assignments for a magazine. The motorbike did little more than mock me from the garage thanks to my lack of time to ride it. As I later walked along the beach with my head exploding, I was struck by a simple and powerful thought: 
I don't have to own this beach to enjoy it. 
A teenager mortgaged to the max
Twenty five years of 1980s consumerist burden started to lift from my shoulders. Having owned my own caravan at age fourteen, my own car at seventeen, and my own property at nineteen, the desperate urgency of trying to unlearn all that selfish behaviour and make up for lost time filled me like helium fills a balloon. 
Fast forward a few months. The designer beach house was sold, I quit the magazine job and the holiday let business. I jettisoned many possessions, and I moved into my Airstream for a simple life on the road. 
That life on the road lasted about eight years. The first three years were terrific. The next couple were great. The two years after that were OK. The eighth year was miserable. 
I made a video about why I quit full-time touring which you can watch by clicking this link.
So what has all this got to do with Stoicism? 
When the student is ready, the teacher will appear
Ever since my buddy Steve gave me his copy of Simplify Your Life by Elaine St James, I've been interested in living a life less complicated. This led to the concept of minimalism, introduced into my life by the legend Anthony Ongaro, and by watching the film The Minimalists with my dear friend and twin, Shanna. 
When visiting me last year, I noticed Shanna reading a book called The Daily Stoic by Ryan Holiday and Stephen Hanselman. Today, my latest YouTube Crush (following on from former crushes such as Casey Neistat and Jenny Mustard) is Nathaniel Drew. 
In his search for what he calls Mental Clarity, Drew makes beautiful cinematic videos about a new (to me) philosophy: Essentialism. 
Minimalism, Living Simply, Essentialism… they are all related. They're about stripping away the unnecessary, shunning the disposable consumer lifestyle of More Bigger Better, and concentrating on the good stuff - the Essential stuff. 
Essentialism firmly has its roots in Stoicism; the philosophy that states you cannot control anything that happens to you or what goes on around you, but you can control your own actions and how you react to those external actions. 
---
So what on earth has all this got to do with camping and caravanning, Ditton? 
Quite a lot, actually. 
In a video about Essentialism, Drew talks about the Stoic practice of doing something uncomfortable for a period of, say, 30 days. This could be: 
Taking cold showers

Intermittent fasting

Going without heating in the winter

Not using the car
What these and practices like them will do is recalibrate your value system, and help you focus on what really matters in life. After a month of cold showers, you'll appreciate the luxury of warm water. Intermittent fasting will show you that going hungry for a short period isn't the end of the world. Not using the car will make its convenience all the more special when you need it for a trip to the supermarket in the rain. None of this is very far from well known religious practices such as Lent or Ramadan. Different paths, same destination.
Camping and caravanning can pretty much do the same thing. For a while, it's fun to go and get the drinking water from a stand pipe, it's fun to cook on a two-ring burner, and it's fun to feel the Hebridean wind rocking the caravan or flapping the canvas. 
After a few weeks, or in my case a few years, it can stop being fun. Getting the water is chore. You'd do anything for an oven so you can cook pizza. And a week of sleep deprivation thanks to stormy weather is enough to drive anyone to distraction, or at least to the nearest B&B. 
As well as all the good stuff like getting back to nature, slowing down, and discovering new places, camping and caravanning allow us to experience a small degree of hardship sometimes, although the more luxurious the caravan, the longer any hardship might take to emerge, if at all. 
Eight years on the road have made me appreciate my modest, simple house more than I could ever have imagined. I still thrill at being able to take a bath, go to bed without making it up, and having an endless supply of water in the kitchen tap. 
It's amazing how little you need to be truly happy. It's all about your personal value system, and only you have control of that. 
---
What I'm reading
Actually, I'm listening to it. The Subtle Art of Not Giving a F*ck by Mark Manson is Stoicism for the 21st Century Dude. It's a bit of a marmite book - you'll either love it or hate it for its coarse language, down-to-earth style, and vicious honesty. As useful as audio books are, I think I might end up buying the print version as there is a lot of gold in there that I want to underline for future reference. 
---
How to Support Streamlining
There are two ways you can support me and this newsletter:
1. You can show your support for what I do through Buy Me a Coffee. Although I'll probably end up buying tea. Or snacks for Dougal. I understand that not everyone who would like to will be in a position to support in this way, and that's absolutely fine! My content is available to everyone, regardless of their circumstances.
2. Most importantly, please subscribe and share Streamlining with those who you think might enjoy it.