August 2020 Newsletter
Goodbyes, Hellos, and an essential piece of kit I wouldn't be without
Welcome to my August 2020 Newsletter!
What a full-on month it has been. If you've been following my YouTube Channel then you'll know that I said Goodbye to Glynnis, my 1971 Sprite Alpine. Less well known is that I also said goodbye to my beloved motorbike, my Triumph Thruxton.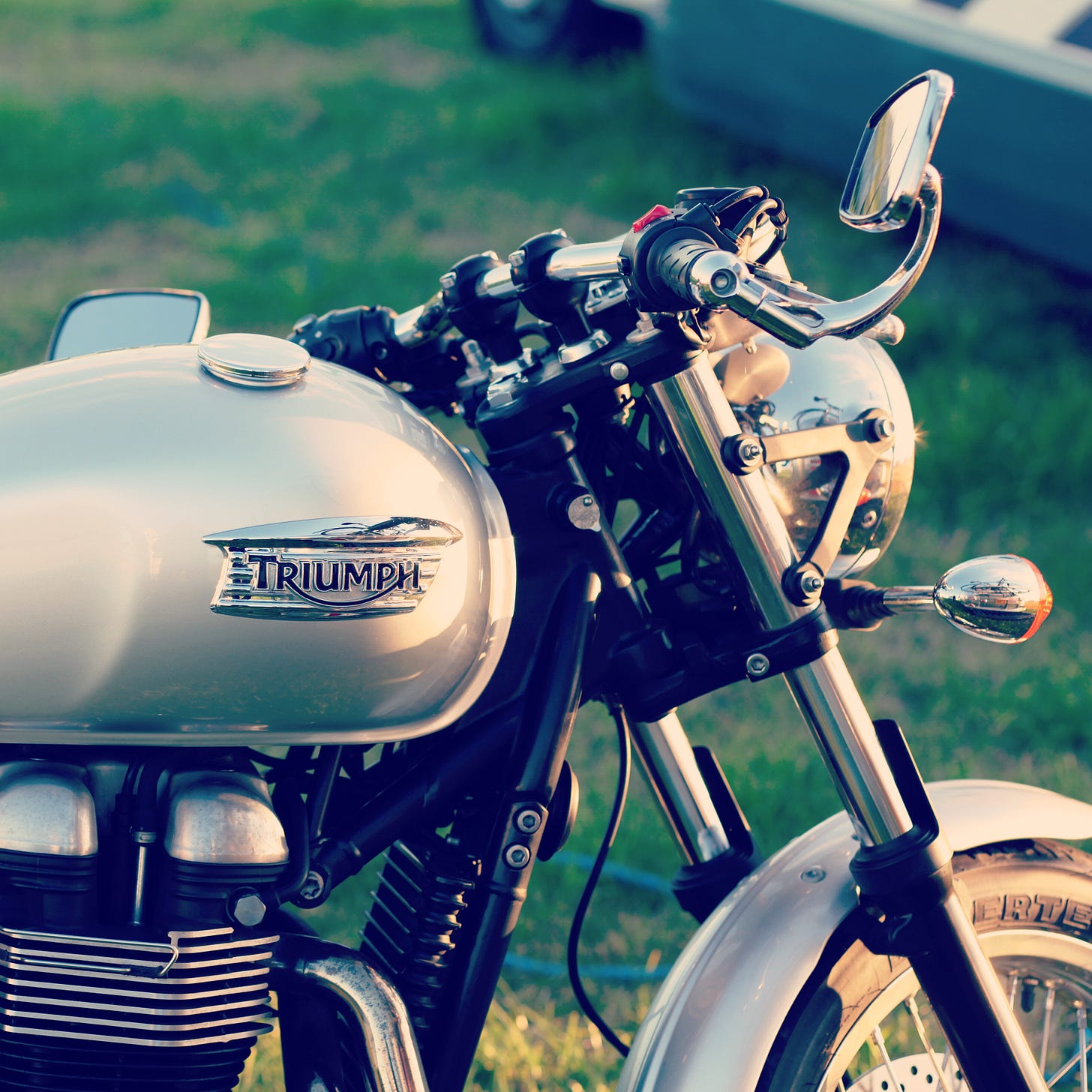 It made little sense to maintain two caravans and a motorbike that (let's be honest) would probably spend 350 days a year sitting the shed quietly goading me as the Hebridean weather does its thing.
It was hard - bloody hard - to sell the bike. By doing so I closed the door on a 30 year chapter of my life. Our possessions and our image do not define who we are, but that knowledge doesn't make the pill any easier to swallow.
However, it was the right thing to do. Having been accident-free for 30 years, I wanted to be the one who got rid of the bike, not the bike be the one who got rid of me.
Hello, Old Friend
On a happier note, August saw the return of my Airstream. Al-Ko UK have done a marvellous job at repairing/replacing the damaged chassis components.
The damage to the chassis was noticed last year while I was at Millbrook Proving Ground, driving for the Caravan and Motorhome Club Towcar of the Year Awards. The on-site Al-Ko engineer examined the chassis to see that the axle mountings had cracked, and the caravan was unsafe to tow. The cracks were on the same side that sustained damage a few months previously, when a sunken pothole before a vicious speed ramp in a Motorway Service Area had immobilised the trailer by damaging the motor mover. Hmm.
Bailey of Bristol, who provide the caravans for Towcar of the Year, kindly transported the Airstream on one of their low-loaders, resulting in very little time for me to empty and clean the caravan between judging commitments.
A year of dirt and muck lie on top of existing dirt and muck when I recently collected the Airstream. Emotions were mixed as I spent a couple of days cleaning it up. Thank goodness for the warm and dry weather at the time.
Once my pride and joy was clean and gleaming once again, it didn't take long - about two days in all - to fall totally back in love with the Airstream again.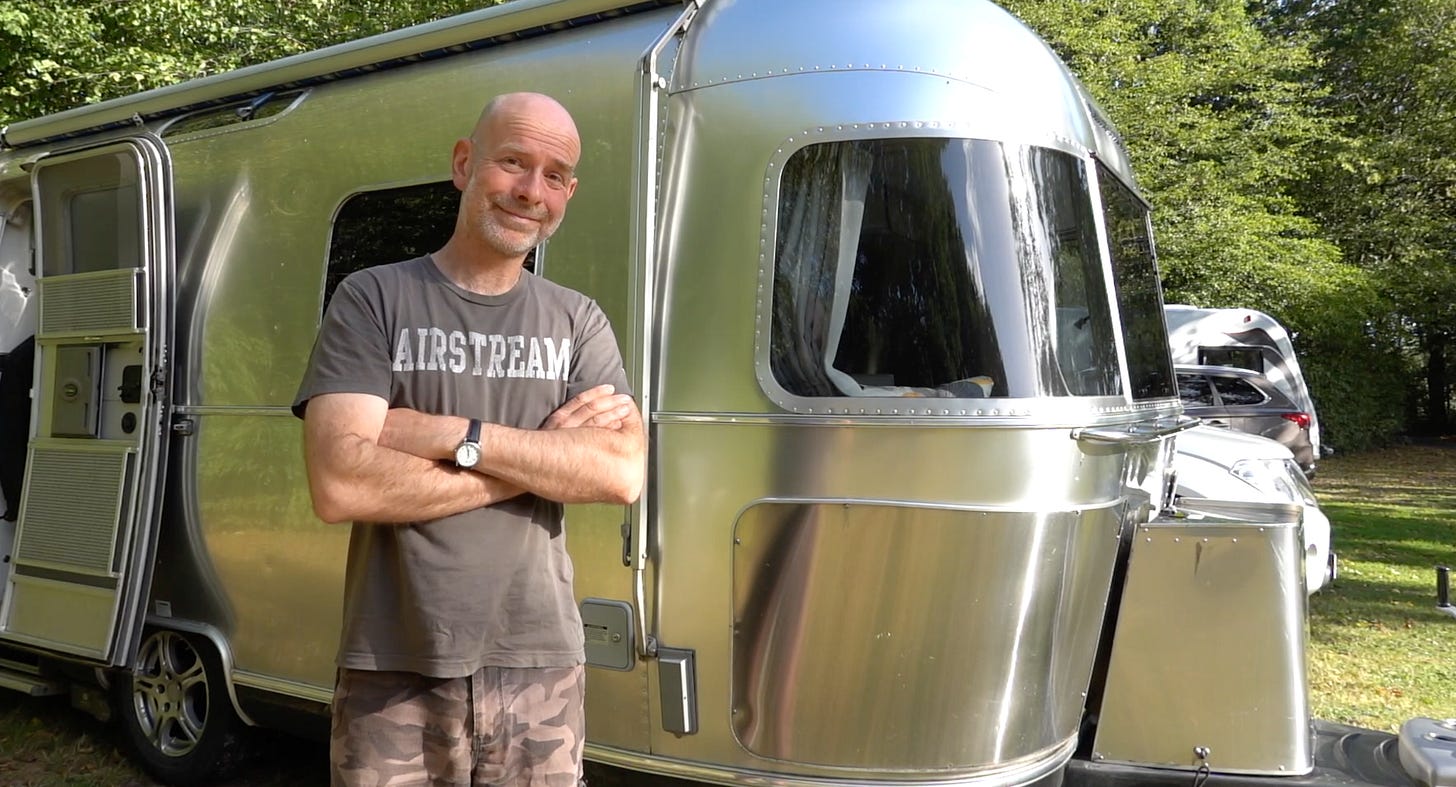 I am very, very happy.
If you didn't catch just how happy I am, check out the celebratory video here.
---
The one accessory I simply wouldn't be without
The week before leaving Uist, I drove without the caravan to Inverness and back to see my friends at Highland Auto Campers. Thanks to the current pandemic, there was no catering on the ferry, and no means of getting a cup of tea. I really, really needed a cup of tea.
A week later, heading to Edinburgh with Glynnis, I really, really, REALLY needed a sausage sandwich and I couldn't find an open cafe.
On this occasion I had sausages and bread in the caravan, so I found a nice lay-by and pulled over, but we hit a problem.
No gas.
Or at least, there was gas in the cylinder, it just wasn't coming through to the cooker thanks to a faulty regulator.
Fast forward a couple of weeks, and as I made my morning coffee in the Airstream, the gas ran out. I use Gaslow Refillable cylinders, so I need to take the caravan to the LPG pump, and we weren't moving on until the next day. What about my coffee?
My Saviour
My life was saved on all three occasions by my Solo Stove. Well, maybe Life is a bit strong. Tea, breakfast, coffee, and my sanity were all saved.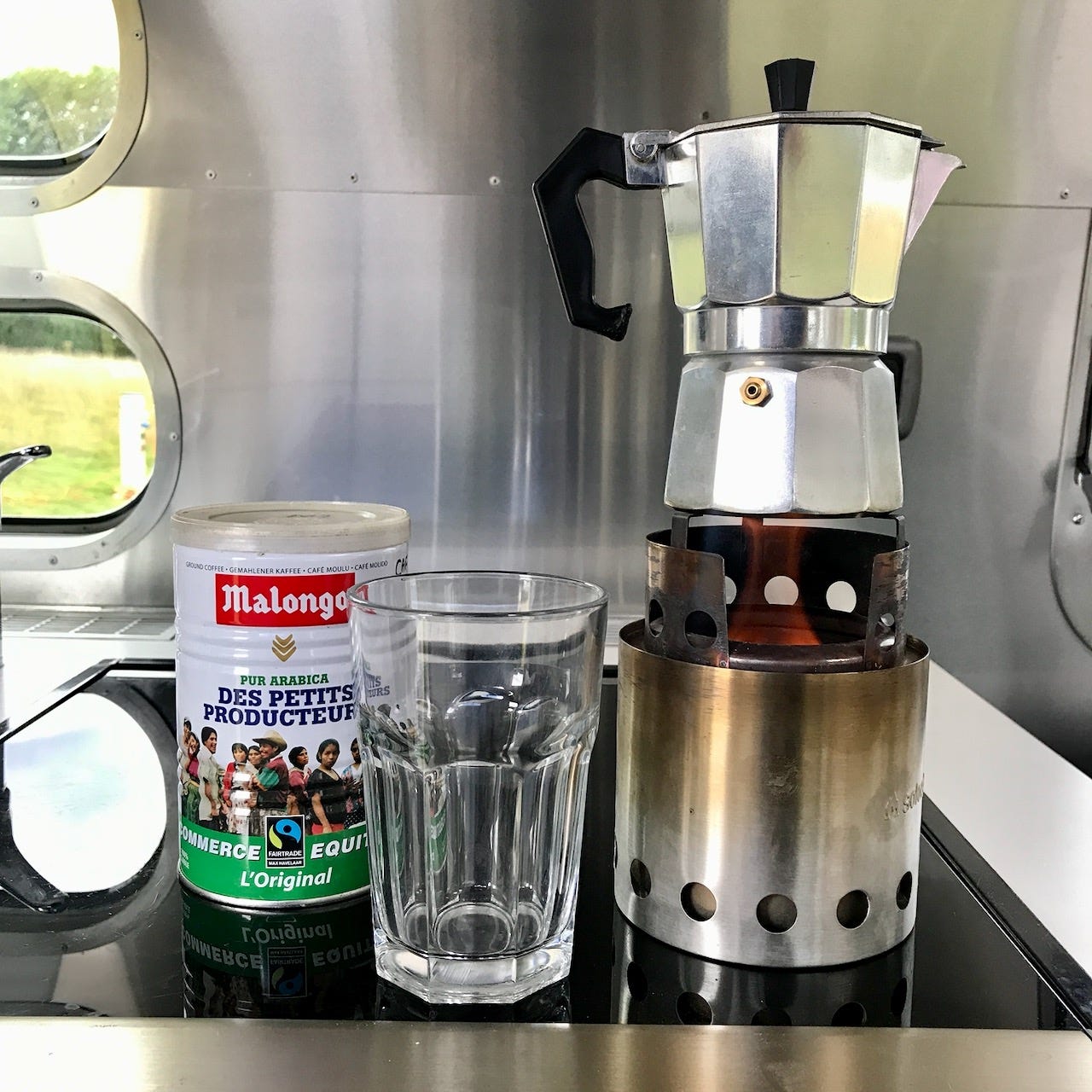 Without the caravan, I could brew up a cuppa on the tail gate of the pick-up. When both caravans had gas supply issues, I could cook the breakfast or save the coffee.
What makes the Solo Stove special is the fact that you can use dried twigs or wood chips as fuel (if you are cooking outside,) but you can also use an alcohol burner in which I burn bio ethanol if cooking inside - or if you don't have any dried twigs to hand.
I have the Solo Stove Lite and the 900ml cooking pot, into which the stove unit neatly fits like a Russian Doll. The alcohol burner is a separate purchase, and pretty much essential in my book. Take it from me - most of the twigs you'll find in Scotland are nowhere near dry enough to be used as fuel.
The downside is that Solo Stove is expensive, but it is made for life. You could say it's the Airstream of camping stoves. Buy decent, buy once.
A more affordable back-up is the good old Mini Trangia stove. A Trangia can only burn liquid fuel such as bio ethanol and is nowhere near as versatile or clever as a Solo Stove, but it's a jolly sight more affordable.
If you are in the US, you can check out the Solo Stove Lite + Pot 900 combo here, and the separate alcohol burner here.
If you are in the UK, you can check out the Solo Stove + Pot 900 combo here, and the separate alcohol burner here.
Otherwise, for the more affordable but less versatile Trangia Stove, check out the US link here, or check out the UK link here.
My Solo Stove was provided to me a few years ago in order to make a video review, which you can watch here.
You might think it's crazy to buy a camping stove and a couple of litres of fuel for well over one hundred pounds. However, that kind of money buys you a product for life, and it's a jolly sight less crazy than spending £10 a pop for two coffees at the motorway service area or roadside garage.
Oh, and good luck with finding a cafe that's open in rural Britain at 7pm Sunday evening :)
---
What I'm reading
I'm still listening to The Subtle Art of Not Giving a F*ck by Mark Manson as mentioned in my previous post. I'm also reading The Daily Stoic by Ryan Holiday and Stephen Hanselman. There are 366 entries to read - one for each day of the year including leap years - each offering a quote from a stoic philosopher and a modern-day interpretation. An excellent way to start the day.
---
How to Support Streamlining
There are two ways you can support me and this newsletter:
1. You can show your support for what I do through Buy Me a Coffee. Although I'll probably end up buying tea. Or snacks for Dougal. I understand that not everyone who would like to will be in a position to support in this way, and that's absolutely fine! My content is available to everyone, regardless of their circumstances.
2. Most importantly, please subscribe and share Streamlining with those who you think might enjoy it.